SPRING SUMMER
SPECIAL OFFER
GRETE JALK
PLYWOOD FURNITURE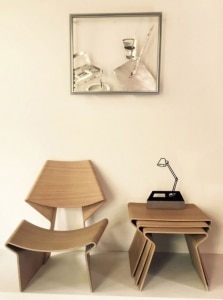 LIMITED EDITION GJ LOUNGE CHAIR + NESTLING TABLES
IN SPECIAL WHITE STAINED OAK VENEER.
NORMAL PRICE = 4250€
NOW! GRETE JALK IN
LIGHT WOOD
SPECIAL OFFER = 2750€
" A MIRACLE IN BENDING PLYWOOD."
About the GJ chair 
This graceful molded plywood chair is one of the leading plywood chairs ever made. Due to technical constraints during the creation in 1963, only aprox. 300 pieces where made of which only a few still exist.
The re-release of this icon was in spite of our current technical capabilities a true challenge and was established due to the kind cooperation of several cultural institutions in Denmark.
The chair is manufactured in her native Denmark and is normally available only in Oregon Pine, Teak and black stained Ash.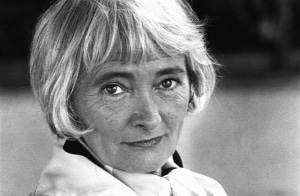 About Grete Jalk
Grete Jalk studied at the Design School for Women (1940–43) under cabinetmaker Karen Margrethe Conradsen. She finished at the Danish Design School in 1946, under additional tutelage from Kaare Klint at the Royal Academy's Furniture School. She took part in the annual competitions of the Design Museum and the Design School's furniture department, and from 1950-1960 would teach there as well. In 1953, Jalk opened her own design studio. There she started developing her own boldly curved bent-plywood models, inspired by Aalto and Eames' designs. Please read more about Grete Jalk at wonderwoodstore.nl
Feel welcome to visit us instore for a try out.
This offer is valid until end of JULY 2017