WW INTRO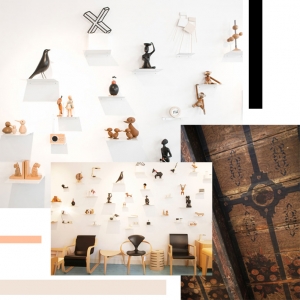 WonderWood is a mixture between a shop and a gallery located in the heart of Amsterdam. Here you can discover the wonderworld of wood in design, furniture, art, gadgets and new talents. Every piece of furniture or art object has a story behind. Instore and on this online platform we like to tell you more about the designs, because it's not just a chair or just a table. Most items made history in design and put their mark on the evolution of furniture design today. This backgound history we are so passionated about we like to share with you so you learn more about the history of design.
Nice to know is each week tourists come to have a look at the centuries-old wooden ceiling in the store. This 450 years old ceiling is still in very good condition as it originates from 1565.
WonderWood has an interesting wide collection of vintage chairs and tabels of the 1940's, 1950's, 1960's. Nexto our rare originals we also sell re-editions of wellknown design furniture. These reproductions of old designs, we call them the Plywood classics. Imagine wonderful plywood chairs from famous designers and architects. Big names who made history in design; like the Norwegian Hans Brattrud, the French Jean Prouve, the American couple Charles and Ray Eames, and Alvar Alto etc. We also show new design pieces of Dutch designers like Richard Hutten, Aldo Bakker, Jeroen Wand, etc. that fit to our concept. Nexto all of this we also proudly present a selection of wellknown and new artists, such as Jeroen Henneman, Klaas Gubbels, Willem van Malsen, Wietze Jellema and Ton van Kints. This wonderful combintation, with the finishing touch of fun gadgets, makes what WonderWood is about today. An accesible high qualitive international minded gallery store where everyone can buy something or can just visit us to get inspired. So, WonderWood is THE spot in Amsterdam for everyone interested in plywood, design, art and some fun! Enjoy!