We are proud to be an official dealer of the wonderful sustainable wooden 'MonkeyGlasses'.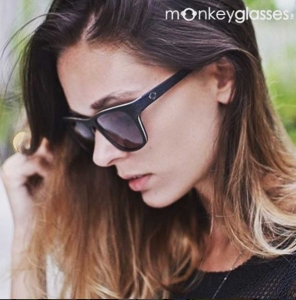 Their brandname is from the Danish play on the word "brilleabe" – when translated into English it becomes "monkeyglasses". We also felt that the concept traveling in "monkey class" fits our vision of having an affordable product.
They are part of  a new positive environment awareness trend. More and more of people are beginning to understand the importance of being sustainable, the need for fair trade and its advantages. Green energy, the environment and human rights are subjects that are increasingly talked about in the media, raising awareness and the demand for sustainable products.
They have developed a unique product that shows consideration for both the environment and the people involved in creating the product. We believe that it is important to look good and see well simultaneously, and now we have a product that combines both for the conscious consumer. Taking responsibility for your choices has never looked better.
What we love is that of each sold pair of sunglasses an percentage goes to the orangutan foundation.
Read More about it here:
MONKEYGLASSES® SUPPORT SAVE THE ORANGUTAN
Thousands of wild orangutans are lost every year – they are victims of the destruction of their rainforest home. This could mean the extinction of one of the world's four species of great apes – one of our most intelligent and peaceful relatives.
Save the Orangutan works to save the endangered orangutan and its rainforest habitat. The project supports the rescue and translocation of wild orangutans whose forest habitat has been destroyed and the rehabilitation of orphaned orangutans who — without help — would die or be sold into the illegal pet trade.
The goal is that as many orangutans as possible can be released back into the wild, where they belong. Danish conservationist Lone Dröscher Nielsen's work to save orangutans on Borneo has featured in the BBC television series Orangutan Diary, Saving Planet Earth and Animal Planet's documentary series Orangutan Island. Lone Dröscher Nielsen moved from Borneo to Wales in 2010 and now shares her life between the projects on Borneo and being the Senior Expert Advisor of Save the Orangutan.
Find out more at www.savetheorangutan.org
MONKEYGLASSES® DESIGNER HAVE ADOPTED NITA
You can become a regular donor too. Read about the orphaned orangutan Julie on www.savetheorangutan.org and become part of the largest primate rescue operation in the world today.